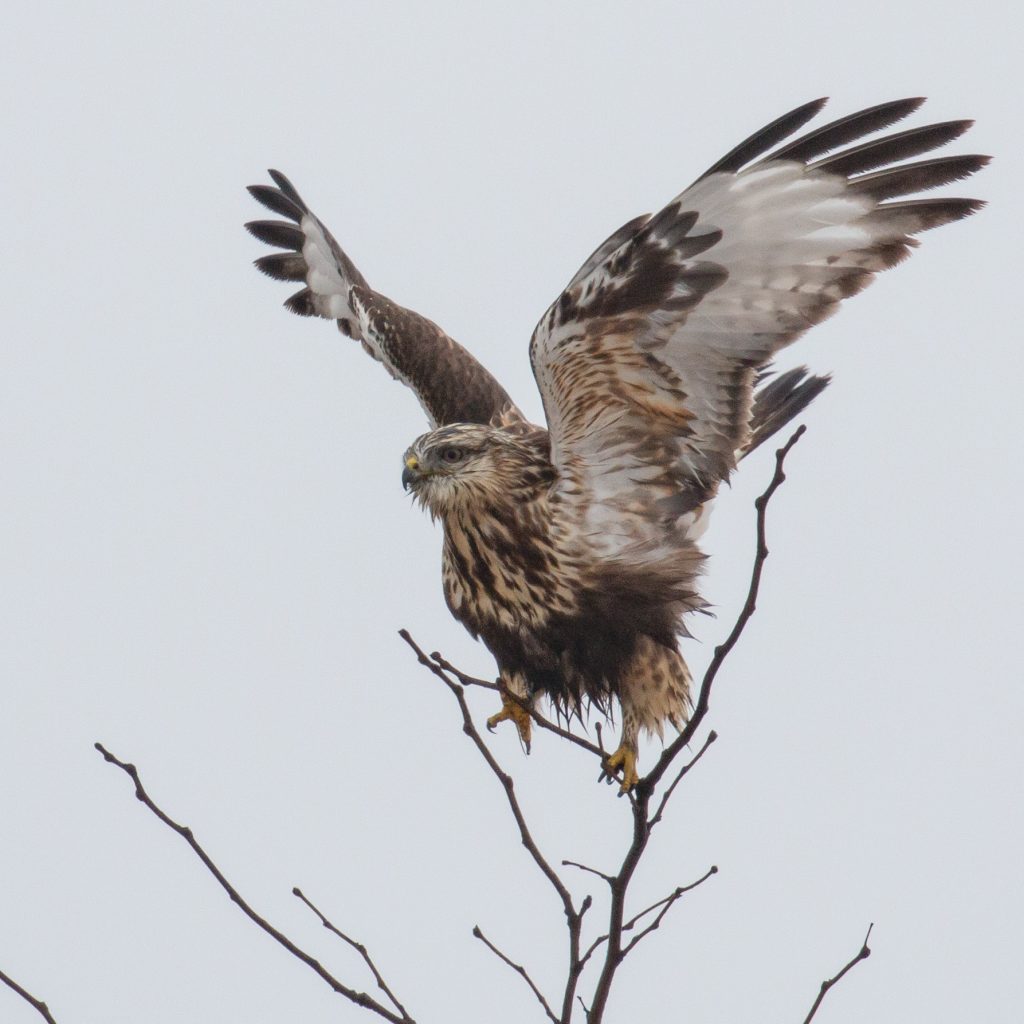 I was looking at the blog the other day and I noticed that for the past 3 weeks, all my posts were at locations outside of Orange County, so I decided to keep it local this weekend. I'm glad that I did, as it was a good weekend of birding. I almost called this post "Crappy Weather = Good Birding". Yesterday was foggy and misty for a large part of the day, and then in the afternoon it gave way to rain; today was a steady rain, all day.
I spent the day yesterday birding the Hudson River, which was iced over in spots and full of ice floes.  I started at Fort Montgomery and Mine Dock Park where I had my first Orange County Fish Crow of the year and I would see my first 9 Bald Eagles of the day. My next stop was my main objective of the day – I went to the parking area on 9W North, which is a trailhead for and looks out  over Storm King State Park. I immediately took my scope out and scanned the left side of the valley, looking for my target bird –  the GOLDEN EAGLE that has wintered at this spot for the past several years (there are many eBird reports going back to 2013 and a single report in 2010). The bird was present and on it's usual perch. I took some distant photos and tried to digiscope it, but the fog was a bit too heavy for good results. I walked the trail for a while and got just the usuals, including a nice photo op with a White-breasted Nuthatch, a bird that I don't photograph very often these days.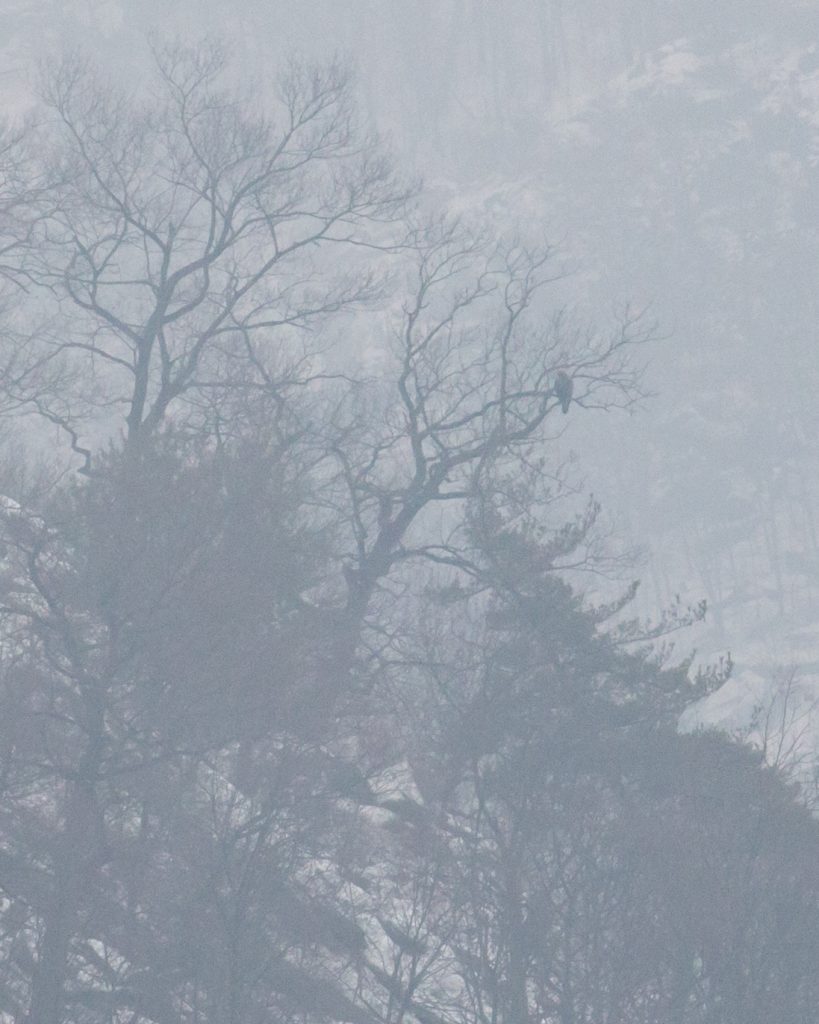 I ended the day at Cornwall Bay and the Newburgh Waterfront. I was hoping for some interesting ducks and maybe an unexpected gull. At Donahue Memorial Park, I had my best ducks of the day – 4 Common Goldeneyes (the only other waterfowl I had all day were Common Mergansers and Mallards). There were many gulls at the waterfront, but unfortunately I only found the three expected species: Ring-billed, Herring, and Great Black-backed. I also had nearly a dozen Bald Eagles there; my total for the day was just under 30 Bald Eagles.
The weather for Sunday was bumming me out; rain all day was not what I was imagining while sitting at my desk at work all week. But, I broke out the rain gear and headed out to the Black Dirt this morning. My main goal was to find some geese. I've had rotten luck with them locally all winter long, but today was a different story. Geese were abundant in the Black Dirt, and early on I was able to locate a pair of GREATER WHITE-FRONTED GEESE. I got lucky with these birds – I was scanning a flock of Canada Geese and two birds flew in. I put my bins on them and immediately saw their speckled bellies. Although the birds were not very far out, I immediately lost them in the flock when they landed. I set up my scope,  that did the trick and I was able to relocate. The problem was not only the number of geese, but they were located among old corn stalks. I put the word out and Linda Scrima joined me and was able to get the birds as well.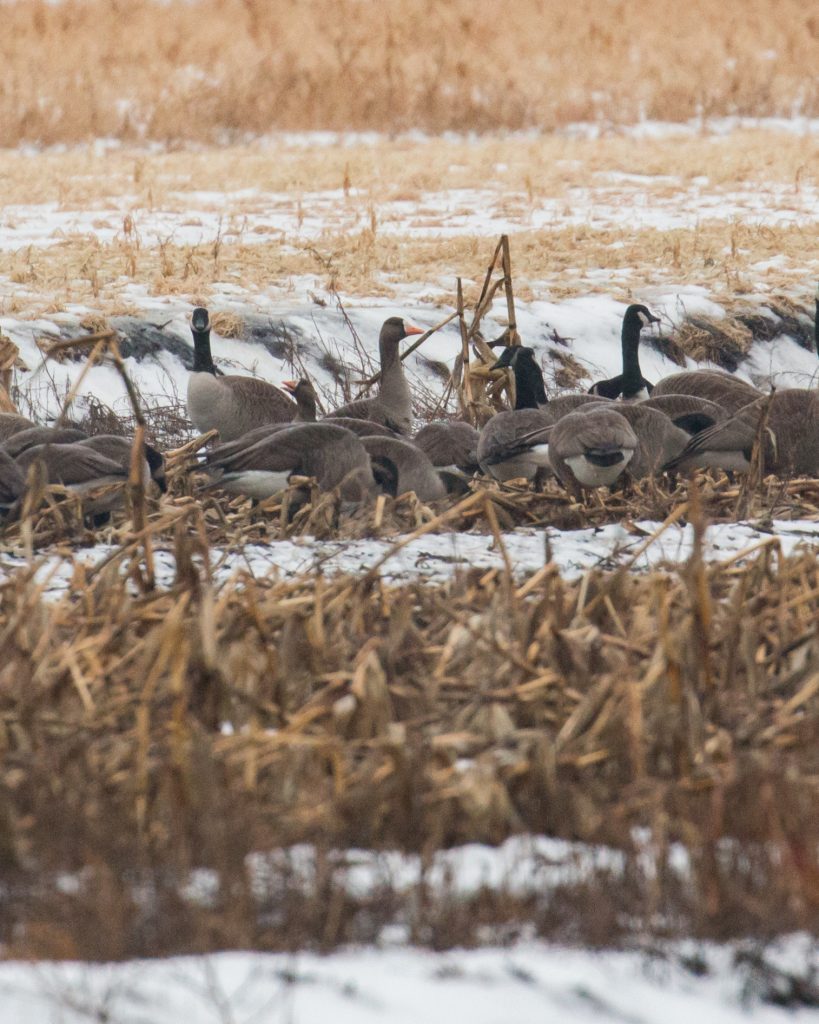 The rest of the morning was mostly the usuals – I was happy to see a flock of 29 SNOW BUNTINGS as well as a decent sized flock of mixed blackbirds, consisting of mostly Common Grackles, with Brown-headed Cowbirds, Red-winged Blackbirds, and European Starlings as well. All but the starlings were my first of 2018 in Orange County.  I did fairly well with raptors and was happy to get a couple of decent photo ops: a wet Rough-legged Hawk that was flexing it's wings, and also a wet, very light-colored, Red-tailed Hawk as well. It was an excellent weekend of birding here in Orange County and just what I needed after a long work week.