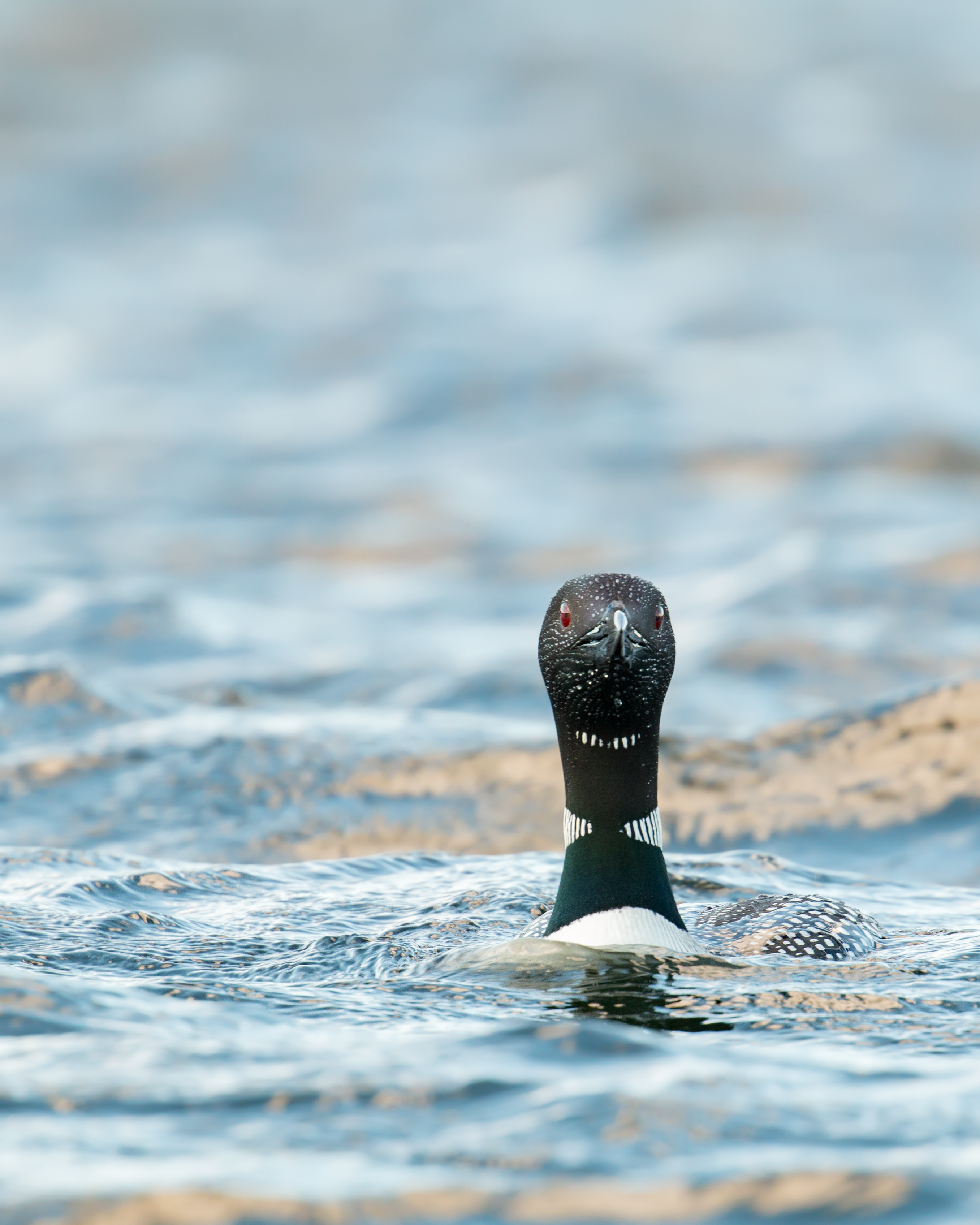 Kyle Dudgeon and I loaded the kayaks onto my VW Golf this past weekend and headed north to do some Adirondack birding. We were heading to Saranac Lake, where there are some excellent local birding hotspots and the St. Regis Canoe Area is less than a half hour away. This trip has become an annual one for me; I've gone the past four years in a row now, but for Kyle, this was his first birding trip in the Adirondacks. Our main goal was to photograph the Common Loons, and if that went well and the timing worked out, we would do some additional birding in the area.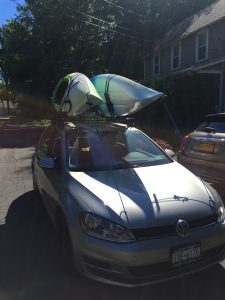 We arrived at the boat launch late Saturday afternoon. The weather seemed good while we were on the road, with mostly sunny skies above us as we made the 4 1/2 hour drive. But, when we got out of the car it was really windy and we immediately saw that the water was extremely rough. As we debated on whether or not to venture into the water, an adult Bald Eagle swooped in by the boat launch and then perched on the other side of the small cove. That convinced us and we headed out in the kayaks. Once in the water, the eagle did not stick around for any photos and the water was rough enough for me to be concerned. I wasn't worried for our safety, we had life vests and we are both strong swimmers, but between the two of us, we had a lot of camera gear to keep dry.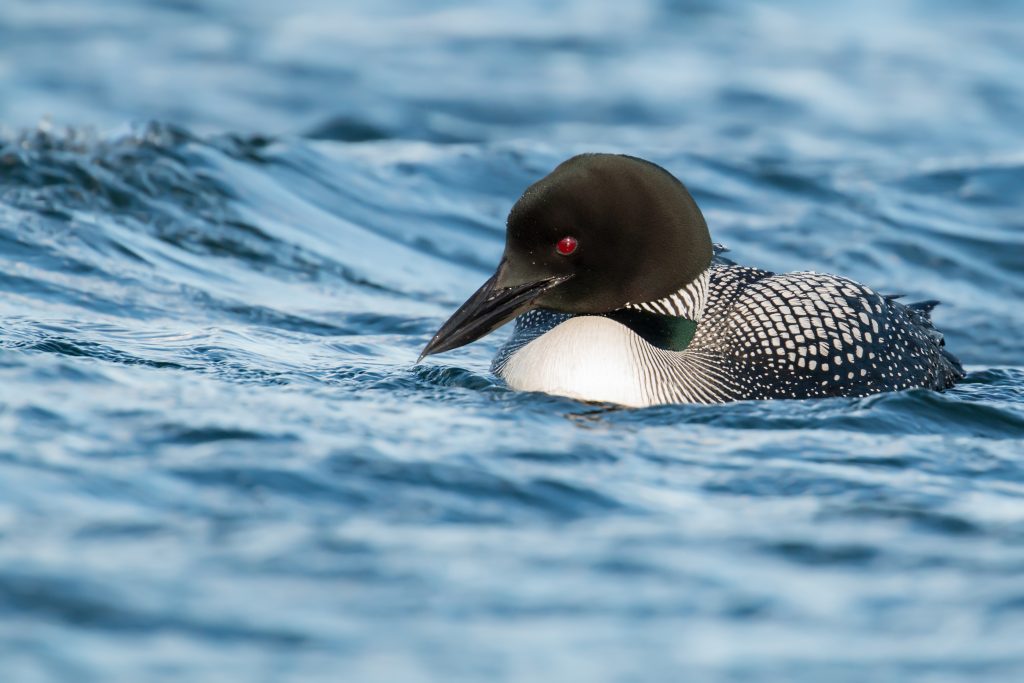 We eventually made it to some areas that were protected from the wind, making the waves at least tolerable. Unfortunately, we were not having much luck with loons, getting only a brief look at a single bird. I've been successful on every other trip, but here I was with Kyle and I was beginning to get worried. We paddled around the large pond, hoping our luck would change and eventually it did. We first heard a loon calling, and then four loons flew in and put down just across the pond from us. We made our way over to them and, as I've experienced in the past, the birds were comfortable with our presence and went about their business. The loons had put down in an area where the water was pretty rough, which made it really tough to take photos, but in the end I felt like the water movement really added to the photos. Later, as we paddled back to the launch, Kyle and I decided to definitely give it another try first thing in the morning, hoping that the wind would die down a bit and make for some easier paddling.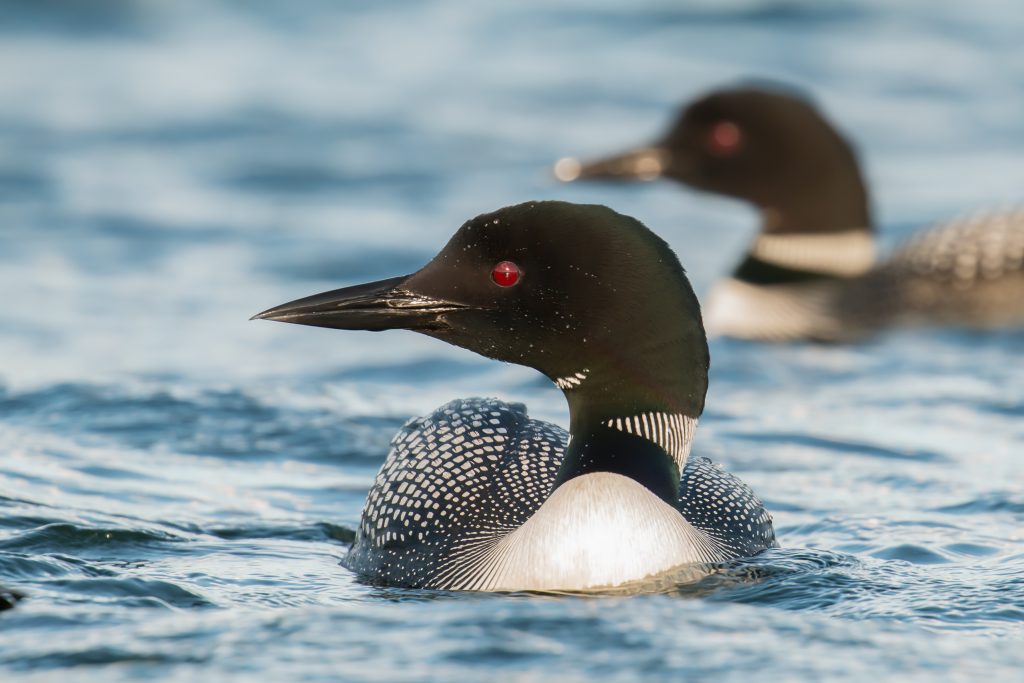 We arrived at the boat launch right at sunrise on Sunday morning. And the water was like glass. What a difference a day makes! The light was gorgeous and the paddling was super easy. We spent 2 1/2 hours on the water; we did well with more Common Loons, including finding one that was on a nest. We were also hearing many songbirds along the shores of the pond and the islands in the pond. We had an excellent close encounter with a Blackburnian Warbler, but I somehow blew my photos of that bird. Kyle did better than I did, you can check it out, as well as all his photos from the trip here. The highlight of the morning, however, was an adult female Common Merganser with 8 of the cutest chicks you've ever seen!
It was still early when we finished up kayaking, so we hit a couple of hotspots to try and get Kyle some target birds. We were hoping for Boreal Chickadee, Gray Jay, and Black-backed Woodpecker. We made brief stops at both Bloomindale Bog and Bigelow Road. Both areas were birdy, but the birds were mostly heard and not seen. We had our best luck at Bigelow Road, where right near the trailhead we had a great look at a Nashville Warbler. Further on, we eventually heard a pair of Black-backed Woodpeckers, which were frustratingly close to the trail, considering we never got even a glimpse. Then, on our way back to the car, we first heard and then saw a single young Gray Jay. The bird did not cooperate, so no photos. We wrapped up the weekend with a nice big, late, breakfast before getting on the road. It was another great trip to the Adirondacks, a place that I've grown to really love in recent years. Huge thanks to Kyle for joining me; he was great company.