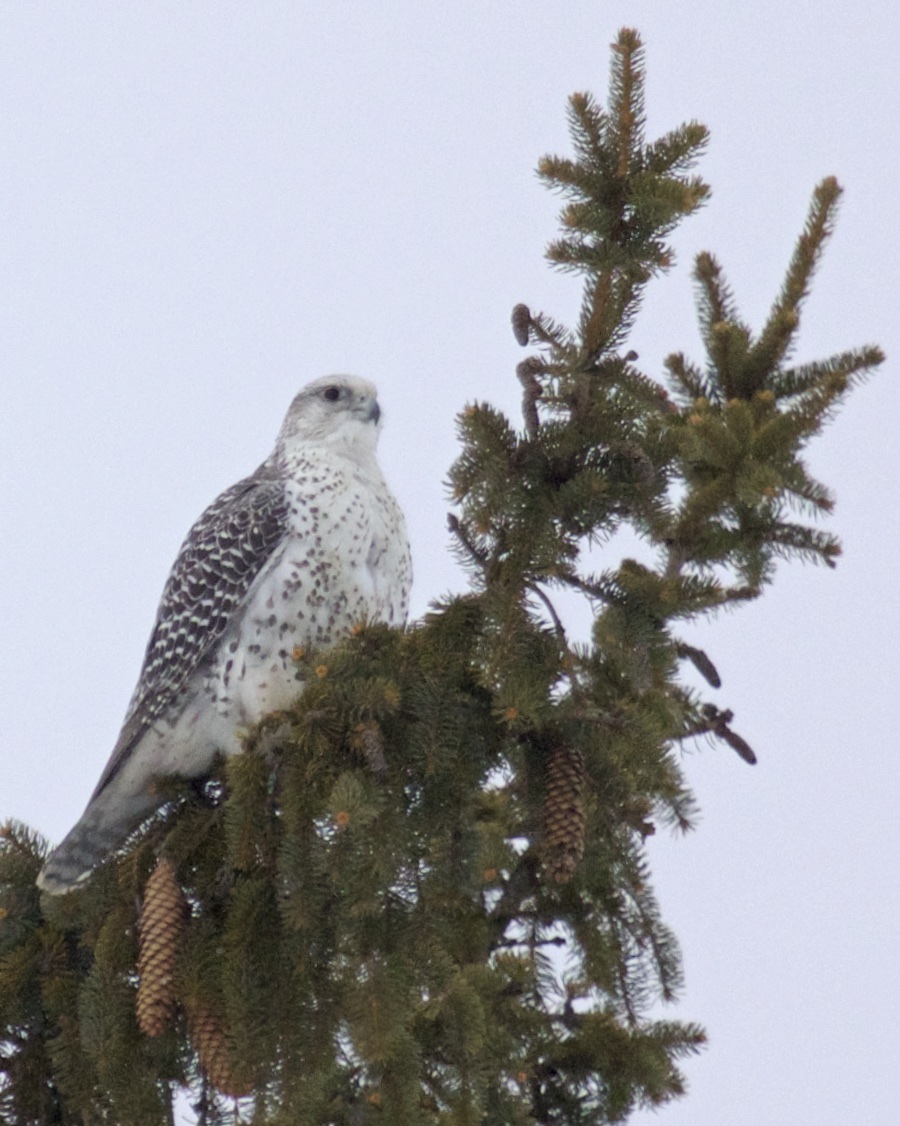 I had slow start to the day birding-wise. I joined Ken Witkowski and we headed up to the town of Hancock in Delaware County, NY. We were participating in a Golden Eagle Survey and due to the weather most likely (we had snow showers on and off), we had a very slow day with very few raptors and no Golden Eagles. It was still a great morning; Ken is very knowledgeable and super interesting to talk to.
I got back to Goshen just before 2:30 and immediately headed up to Ulster County to try for the Gyrfalcon that had been located by Karen Maloy Brady the day before (huge thanks Karen!). On the way I spoke with John Haas to see how the morning had gone – apparently there were plenty of birders out looking for the falcon, but the search had been unsuccessful. I wondered if it was worth the trip up there, but then I figured the worst thing that could happen would be that I didn't locate the bird and then headed over to the Shawangunk Grasslands NWR to go for the Short-eared Owls. So, I decided to try for it and boy am I glad I did. There is a saying that it's better to be lucky than good. Well, boy did I get lucky. As I was nearing Bates Lane (which is where the bird had been seen the day before), I noticed a perched bird in a tall evergreen tree. I stopped and took a quick look through my binoculars and nearly had a heart attack – it was the GYRFALCON! I took some quick photos and then put the word out; I was praying that the bird would stay put for others to see. The falcon had other ideas and after some time flew from its perch, heading north and over a little hill where I lost sight of the bird. Less than a minute later Curt McDermott showed up and I explained the situation. Curt relocated the bird inside of 5 minutes just north of where I was on Old Fort Road, and it was on a fresh kill! Many birders arrived (I would guess between 40 and 50) and got to see this beautiful creature.  The falcon finished its meal, and then returned to its perch on the evergreen, then to a telephone pole on Old Fort Road where it stayed for a good while. Just after 5:00 the bird was flushed by a Red-tailed Hawk and headed north.
The Gyrfalcon was life bird #317 for me. What an exciting afternoon of birding, one I will never forget. And what a magnificent bird – really and truly remarkable.