On my way out of work today, I received a text from my fellow hawk counter Carol Linguanti, telling me she had located an active Red-tailed Hawk nest in Warwick. I stopped by to check it out and it was really cool to see it: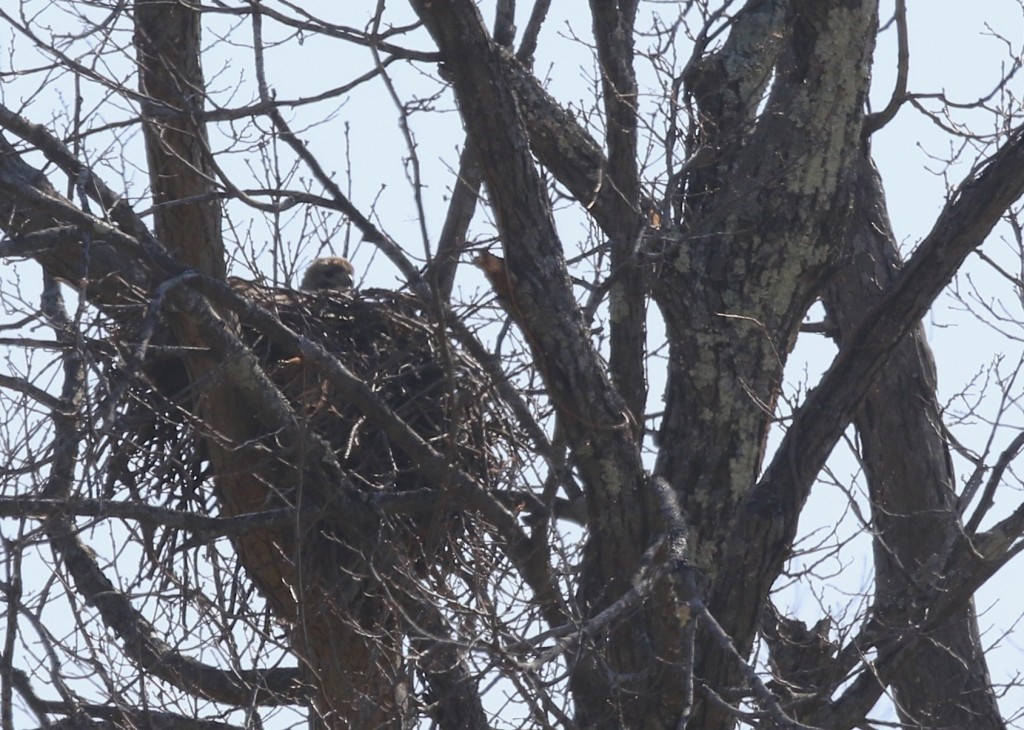 Next I headed over to Glenmere Lake to see what was going on. The water was extremely choppy and there were not nearly as many waterfowl present. Of note I had a single Common Loon, 9 Lesser Scaup, a single Bufflehead, and 6 Mute Swans. There is a small pond not too far from the lake and I went there to check for waterfowl. There was small number of Green-winged Teal present, a pair of Mallards and a pair of Mute Swans. The highlight of the stop (and maybe the day) was a Greater Yellowlegs, my first of the year.
My last stop for tonight was at 6 1/2 Station Road Sanctuary. My best birds there were a pair of Blue-winged Teal that did not seem to know I was present. I shot many photos through the grasses: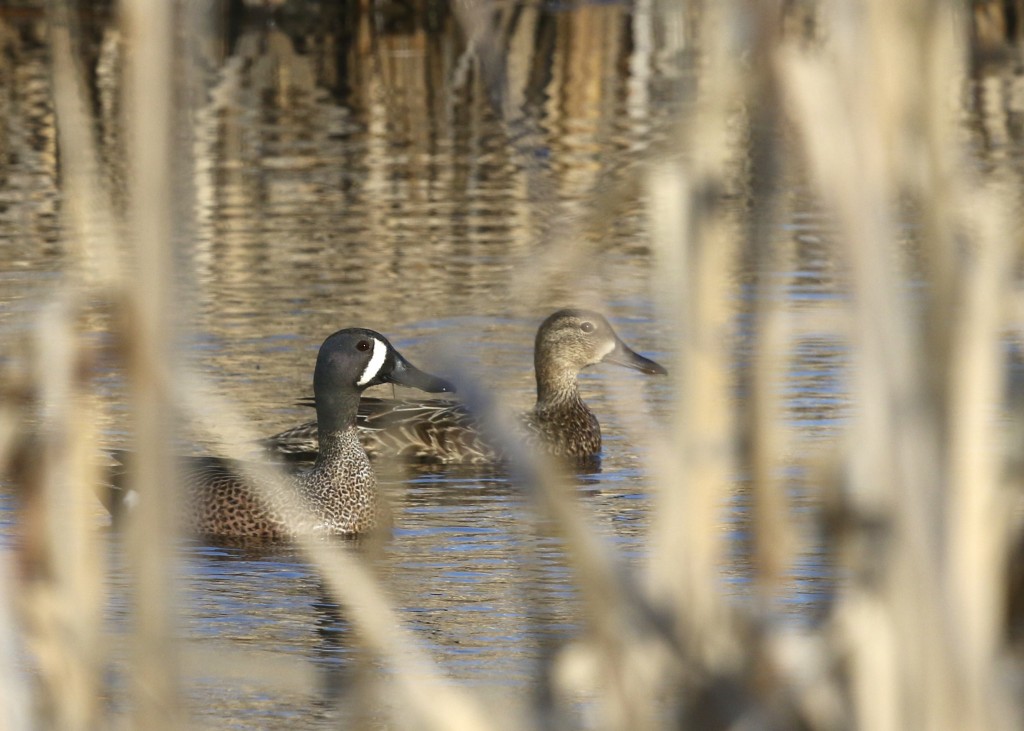 Other notable waterfowl present included: Ring-necked Ducks (21), Green-winged Teal (18), and Pied-billed Grebe (2).
WEDNESDAY 4/9/14
Yesterday I made it back out to the Wallkill River National Wildlife Refuge to walk the Liberty Loop. I mostly wanted to check on the Eurasian Wigeon, which continued on the west side of the loop, well into Sussex County. I was finally able to get a shot that is somewhat identifiable: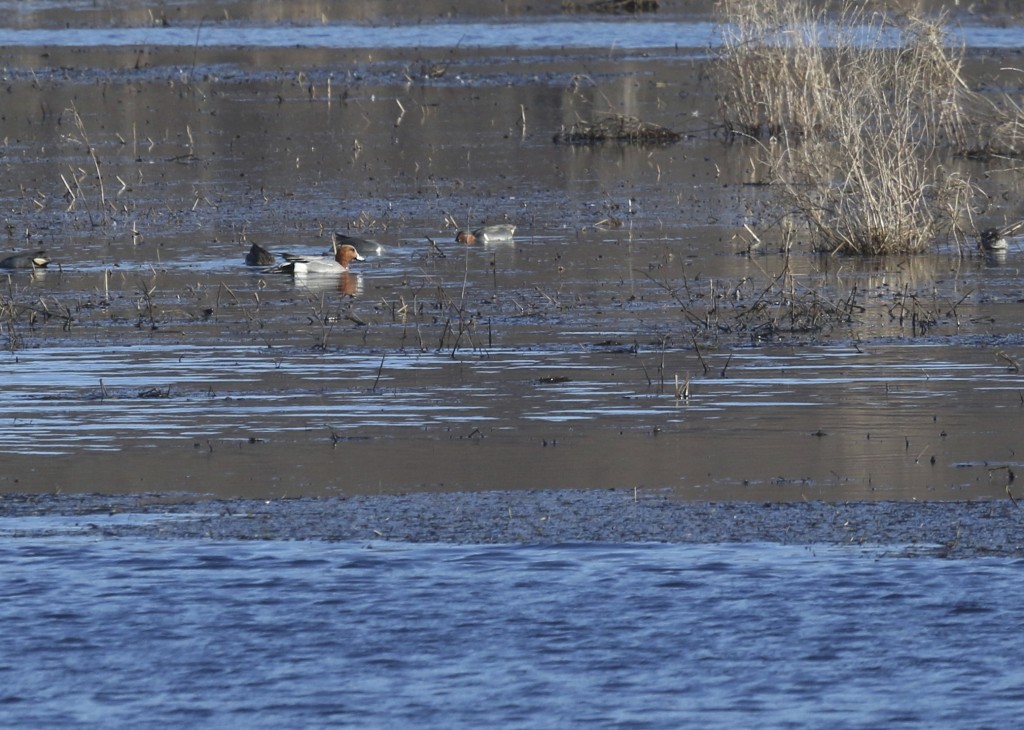 Not long after taking this shot, all the waterfowl lifted up. I looked for an eagle or perhaps a Peregrine Falcon but never found the source. I lost the EUWI in the process, but did manage an interesting shot of Green-winged Teals in flight.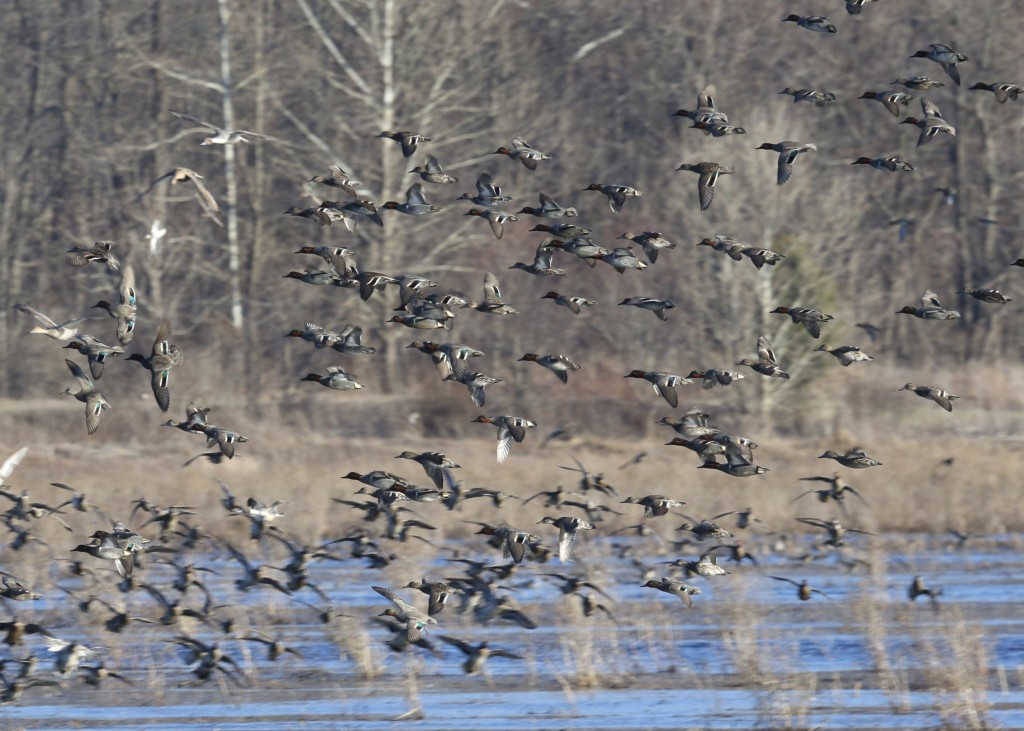 I should note that there was still a good number of waterfowl present at the refuge, including: Ring-necked Duck, American Wigeon, Northern Pintail, Northern Shovelers, Mallard, Canada Goose, Pied-billed Grebe, and Blue-winged Teal.