At the conclusion of each hawkwatch season, Mount Peter Hawkwatch leader Judy Cinquina writes a report summing up the year. She always does a great job with the write up, and this year is no different. As she has in the past, Judy provided her report to me so I could include it here on the blog (thanks Judy!). Enjoy the read.
Mount Peter 2021, by Judy Cinquina
Except for a curious Black Bear and an unprecedented invasion of Turkey Vultures, Mount Peter's 64th annual fall watch provided few surprises. Eleven volunteers manned our 71-day count for 472 hours, September 1 through November 15 and produced 10,120 migrants, primarily Broad-winged Hawks, resulting in a very average 21.44 hawks per hour.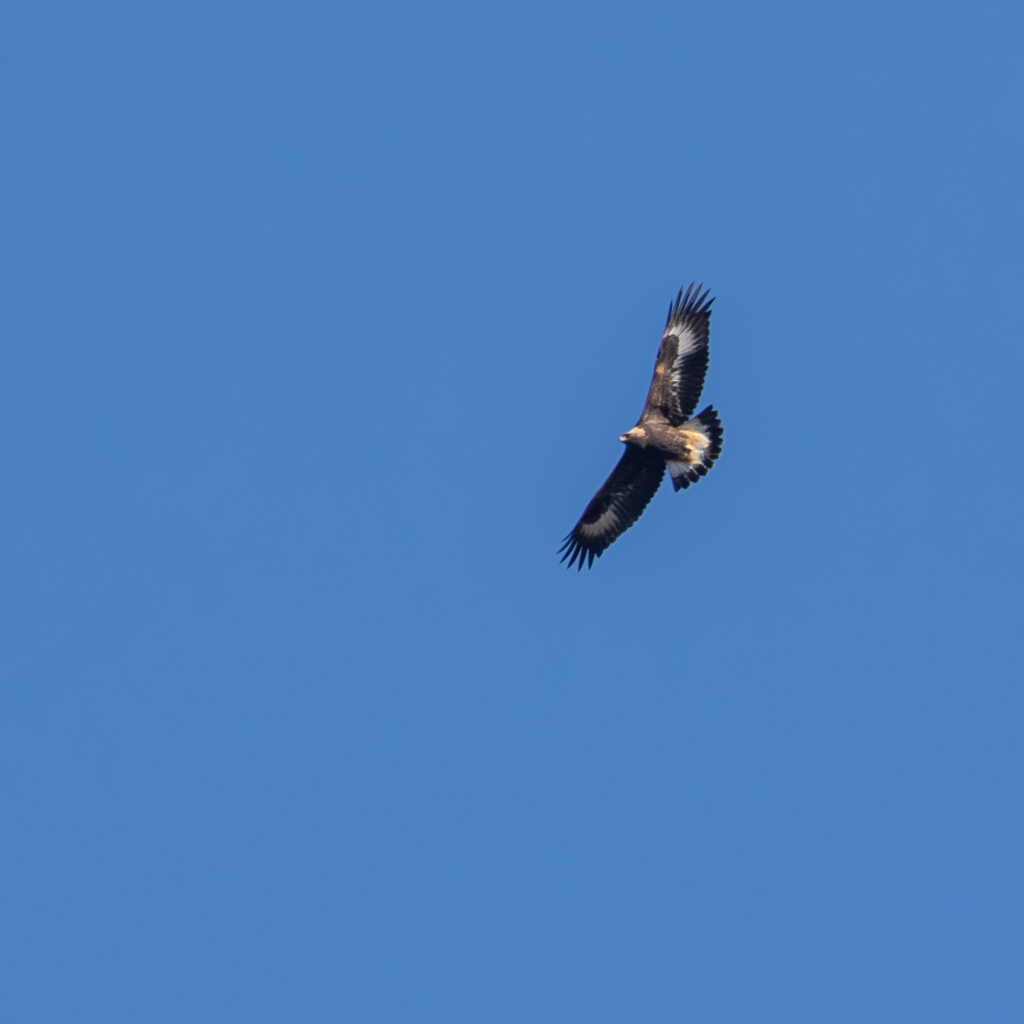 Our most abundant migrant, the Broad-winged Hawk awarded leader Will Test our only four-digit day, September 19. The 3,888 he recorded appeared in "huge" distant kettles, resembling swarms of gnats on light NNE winds. Most began moving at 10 a.m. EST and continued through the nine-hour day, peaking with 1,502 between 1:00 and 2:00 p.m. The next morning, Elisabeth McGrath and Ken Witkowski mopped up leftovers, netting 991 more, and then things quieted down. Red-shouldered Hawks came in under their 10-year average at 119: 56 adult, 17 immature, 46 undetermined. Although our watch was extended into November in the '80's, it wasn't until 2012 Red-shoulders topped 100 or above at our lookout. Our all time record was set only four years ago when 213 took advantage of strong NW winds. Red-tailed Hawks failed to show up this season, coming in 14% below our 10-year average and well below our record 905 set in 2003. Our final tally of 113 was the lowest since 1980 when the count was extended into November. It is concerning, but history has taught us that this species moves on strong NW winds which 2021 failed to produce. Our two best days garnered a mere 13 apiece, November 1 and 10. 
Since scoring a record 2,440 Sharp-shinned Hawks in 1986, our 10-year average for this small accipiter has dropped 34%. Only 871 showed up this season, one of seven of our counts under 1,000 since 1978 when our watch expanded into October. Our count mirrors a decline of Sharpies across the Northeast. One explanation, according to Trudy Battaly, Editor of the North East Hawk Watch Journal, may be a decline in songbirds, an important food source for Sharpies. Sharpie numbers may be going down but the larger Cooper's Hawk numbers are up. This season's 114 tied their current 10-year average and is a 119% increase over the 52 averaged in the 1980's. Their larger cousin, the N. Goshawk failed to make an appearance for the third straight season.
Are American Kestrels on a new, positive trajectory? For the second consecutive fall, their numbers held above the 100 mark at 125: 14 male, 25 female, and 86 unknown. Most were too high or far out to sex. The 10-year average of this little falcon has plunged 133% since the 1970's. Ken Witkowski scored the best day with 30 on WNW winds, September 30. To put that in perspective, our best day in our 64-year history was September 11, 1965 when 210 Kestrels moved through along with hundreds of dragonflies, a favorite food. Any migrant Merlin or Peregrine Falcon is considered a gift at our lookout. Although both produced below average counts, the 8 Merlin and 11 Peregrines were welcome treats.
The last three fall watches brought us the best Bald Eagle numbers in our 64-year watch. A good tally of 140 was noted this fall: 62 adult, 76 immature and 2 undetermined, although it doesn't beat last year's record 177. Will Test claimed the best day with 11 that went through with the Broad-wings, September 19. Golden Eagles showed well across the Northeast this season. Between October 19 and November 6, we recorded four Golden Eagles: 1 adult and 3 immature, all on northwest winds. Our record stands at 12 Goldens in 1994.
For the 13th consecutive season, Osprey came in below their 10-year average with 122 recorded. Beverly Robertson nailed the best day with 22, September 12, on light northwest winds.
Like the beleaguered Kestrel, the N. Harrier has declined so much from the 101 seen in 1980 that any slight improvement elicits cheers. The 46 Harriers counted this fall was above the 10-year average: 5 male, 7 female, 14 immature and 20 unknown. Two male Harriers helped draw the curtain on our 2021 watch, on November 15. Leader Bill O'Keefe spotted the two pearl-gray males flying south ahead of an approaching snow shower, as our 2021 watch drew to a close.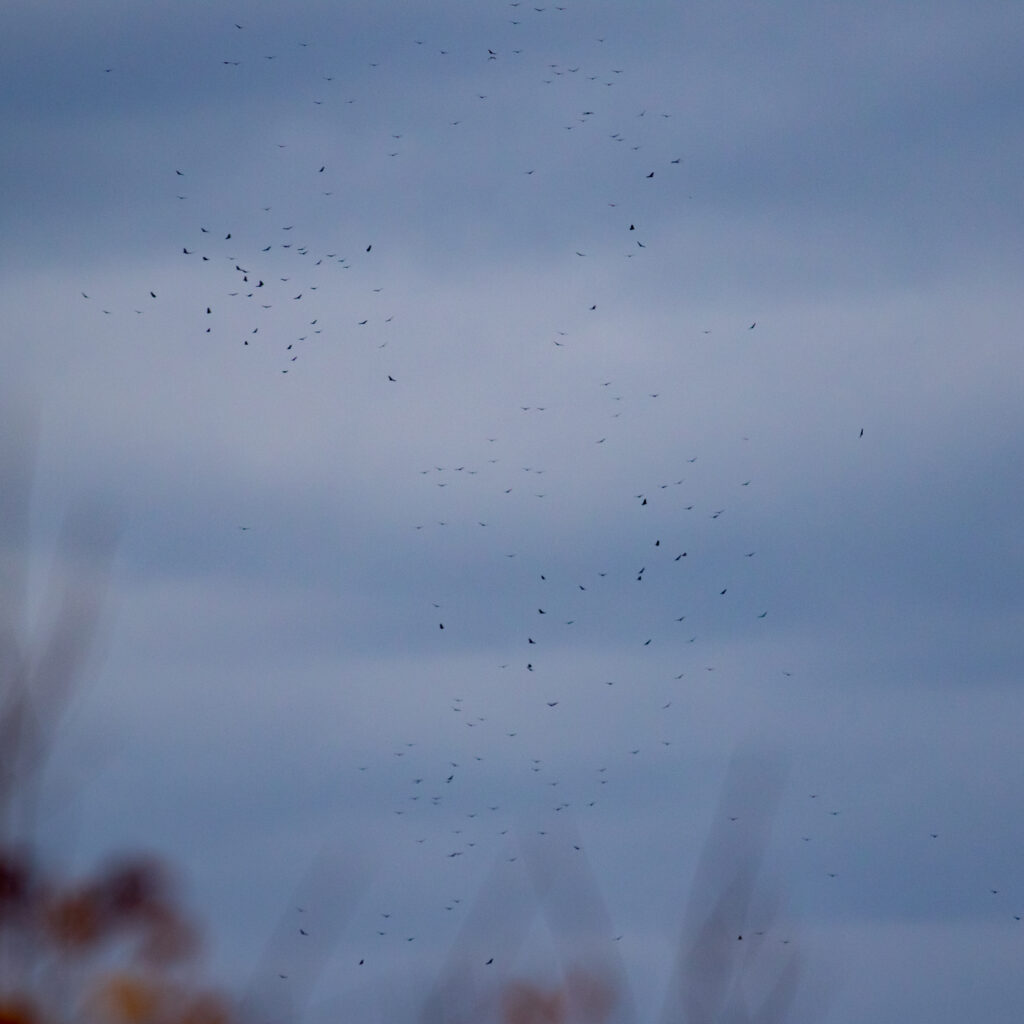 Vultures have always been a problem for our leaders. Both species are constantly around, perching on the microwave towers in front of us and hunting the farm fields below. Last season reinforced the fact that some of our vultures do migrate when an unbroken stream of 175 Turkey Vultures went over in one hour, October 27 and pushed our final tally to a record 850.  This year the big Turkey Vulture event occurred, October 23. Just as things were getting boring, hundreds of dark specks were spotted in the distance. Leader Jeanne Cimorelli described it as "a tremendous, single-event stream of 851 Turkey Vultures beginning at 2:55 P.M. EST and lasting 45 minutes as birds streamed and kettled out over the valley west of the platform. At its peak, there were three kettles of varying sizes with streaming birds to either side and more birds coming in from the north." The last of them shifted southeast right over the platform.  "It was just beautiful to watch," Jeanne wrote. Black Vultures came in under their 10-year average with 77. But, like all our vultures, they're difficult to count and always hanging around. 
Although local Ravens entertain us daily, Tom Millard observed two migrating south, October 7. That same day, he was alone, scanning the sky when he looked down and was startled to find a Black Bear directly below the platform. "He looked around for a minute," Tom wrote, "and went back into the woods." Ruby-throated Hummingbirds totaled a very average 21 in September. Our record is 45 in 2013. Monarchs migrate in almost any weather with a healthy 1,152 counted through October 27. We counted 4,075 Canada Geese with Denise Farrell toping counts with 1,061 on October 18 and 1,314 on the 27th. Rick Hansen scored 120 Brant, October 22, and Tom Millard noted the only Snow Geese with 20, November 11.
Other birds of interest included: Common Nighthawks September 12 and 14; Great Egrets on September 27 and October 23;Yellow-bellied Sapsucker from October 24 through November 6; Red-breasted Nuthatch singles from September 7 through November 7; and Purple Finch migrants daily between October 23 and November 14.
Thanks to our very dedicated and enthusiastic volunteer crew who put in 472 hours, sometimes without company, and made this report possible. We're very grateful to Tom Millard for repairs on the platform and installing and taking down our platform box and to Bill O'Keefe for painting over the graffiti. Many visitors benefited from the informative posters created by Denise Farrell. Kudos to our clean-up crew, Denise, Tom, Bill, Rick Hansen, Tom Mitchell and Will Test who picked up trash and cut back weeds