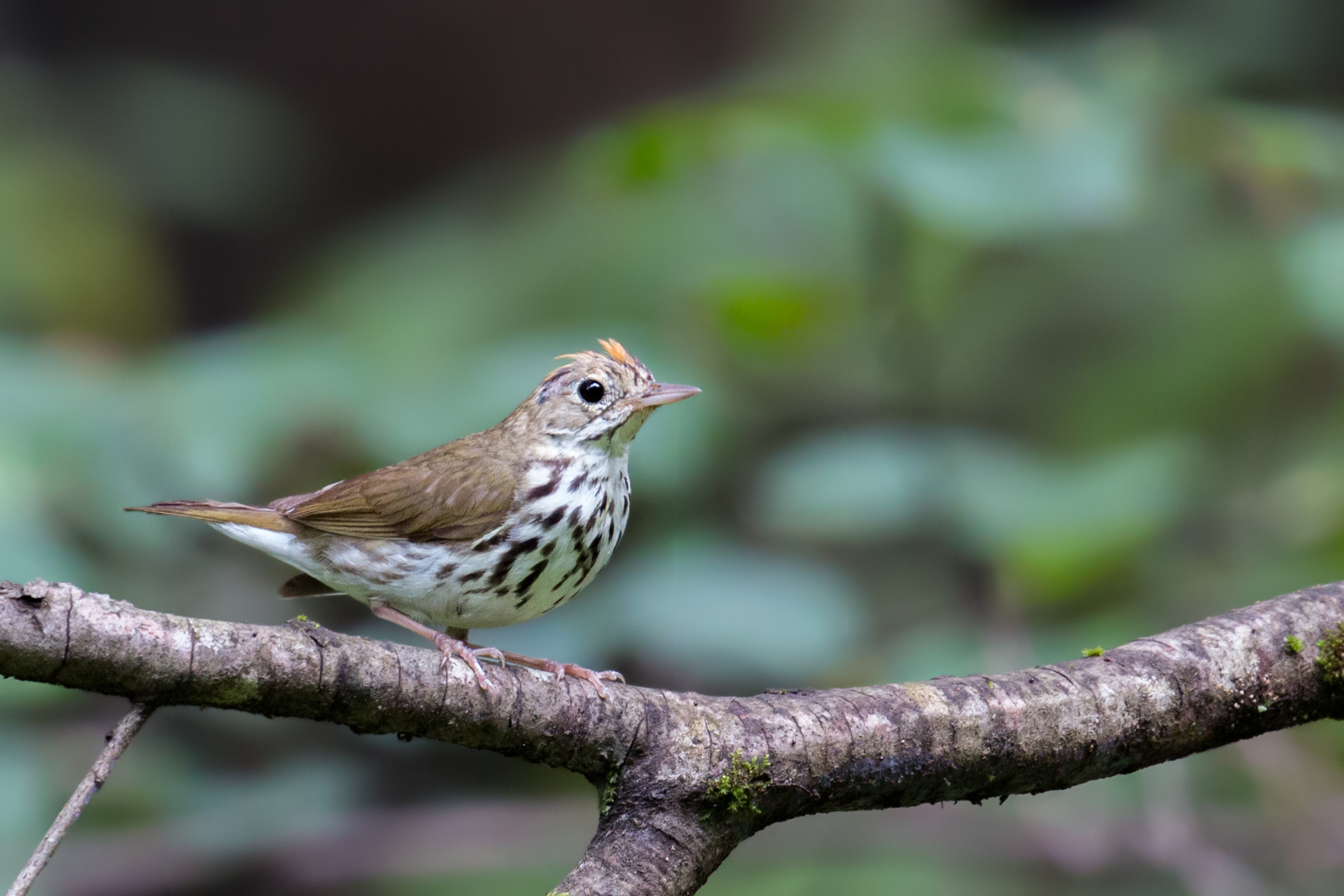 I wasn't sure where I wanted to bird this morning, so I consulted John Haas' book 'A Birding Guide to Sullivan County New York', and decided to head out to Hickok Brook Multiple Use Area. John mentioned in his write up that Hickok Brook is good for breeding warblers, and more importantly, that Ruffed Grouse could be found in the area. I did okay with warblers, getting nine species: Ovenbird, Black-and-white, Common Yellowthroat, Hooded, Chestnut-sided, Blackburnian, Black-throated Blue, Pine, and Black-throated Green. I had one bird calling that I couldn't identify; I'm wondering if it wasn't a Nashville. The best part came a little bit later in my walk. It was closing in on noon, and many of the birds had quieted down as I walked back to my car. Suddenly, from the ferns on the side of the trail, not 10 feet from me, a RUFFED GROUSE popped straight up and flew at high speed into the woods, never getting more than ten feet off the ground. It scared the heck out of me! And while I was happy to get the bird, it was a less than satisfactory experience. Let's just say Ruffed Grouse remains on my nemesis list.
RANDOM TANGENT: I feel like my birding by ear is worse this year than last year. It could be that last year I spent all of my time in Orange County and I had learned most of the birds that I would hear. This year, I feel like I'm struggling. I noticed it for sure when Kyle and I went to the Adirondacks, and again in recent weeks when I've been birding in Sullivan County. There are some birds that I just don't know by ear, but also I find myself getting a little lost from time to time and struggling with some of the birds I thought I knew. One of these days I am going to write a post about what makes a good birder, and birding by ear is certainly high on the list.
SHOREBIRD REPORT: I have been checking Citgo pond regularly and so far I've had low numbers of Least Sandpipers and just a couple of Lesser Yellowlegs. Conditions are good at the pond, so I remain optimistic.