On Sunday afternoon, Tricia and I made an impromptu visit to Jones Beach. We were heading back to Goshen after celebrating my little sister's 40th birthday at the Irish Times Pub in Holbrook, Long Island the night before. A skein of Brant flying over changed our plans in a hurry – I was really itching to do some birding. Tricia was on the phone with her sister at the time and she told us how to get to Jones Beach.
We had a really good afternoon of birding. We saw many species and were able to identify the following: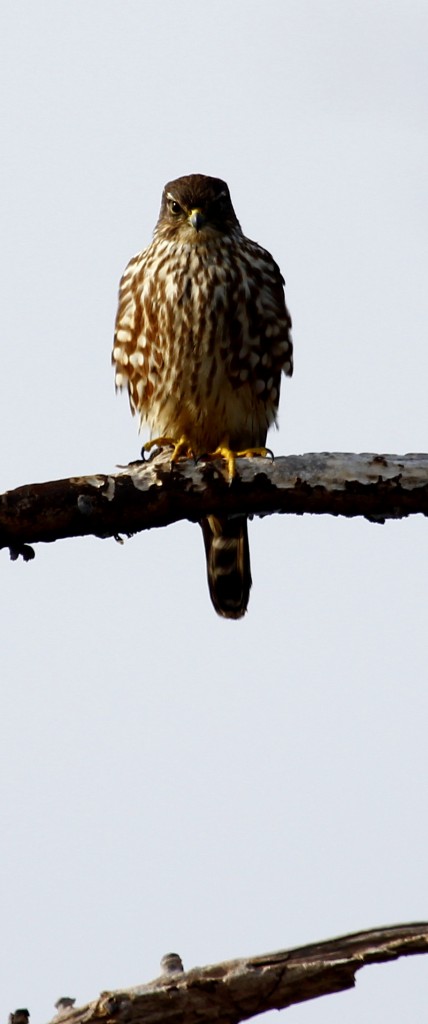 Canada Goose
Brant
Mallard
Greater Scaup
Red-breasted Merganser
Red-throated Loon
Common Loon
Norther Harrier
Sharp-shinned Hawk
Red-tailed Hawk
American Kestrel
Merlin
Black-bellied Plover
Oystercatcher
Dunlin
Ring-billed Gull
Herring Gull
Great Black-backed Gull
Mourning Dove
Norther Flicker
American Crow
Black-capped Chickadee
Red-breasted Nuthatch
American Robin
Northern Mocking Bird
Yellow-rumped Warbler
Savannah Sparrow
Northern Cardinal
Red Crossbills
White-winged Crossbills
American Goldfinch
I had a pretty good day with the camera – I managed to get pretty good exposures on almost all my photographs. I have thought about it and I think there are a couple of reasons. The first is that the light was pretty steady, there were no clouds moving through or anything else to change the light significantly. The second is that I think I am getting better at making the proper adjustments. I was also making adjustments as I photographed certain birds, getting several shots that were lighter as well as some darker ones.
It really was a very exciting day of birding, I am having trouble deciding on my highlight.  It was a lot of fun to bird in a different location because we got to see so many birds that we don't normally get to see. I am pretty sure that it is not anything special to see loons at Jones Beach, but it was a thrill for me. Same for the Brant. The Crossbills were very exciting too – life birds for me, but I think getting such a close look at the Merlin was probably my favorite part of the afternoon. Because we don't get to see them very often,  Tricia's highlight was seeing all the shorebirds as we walked along the beach.