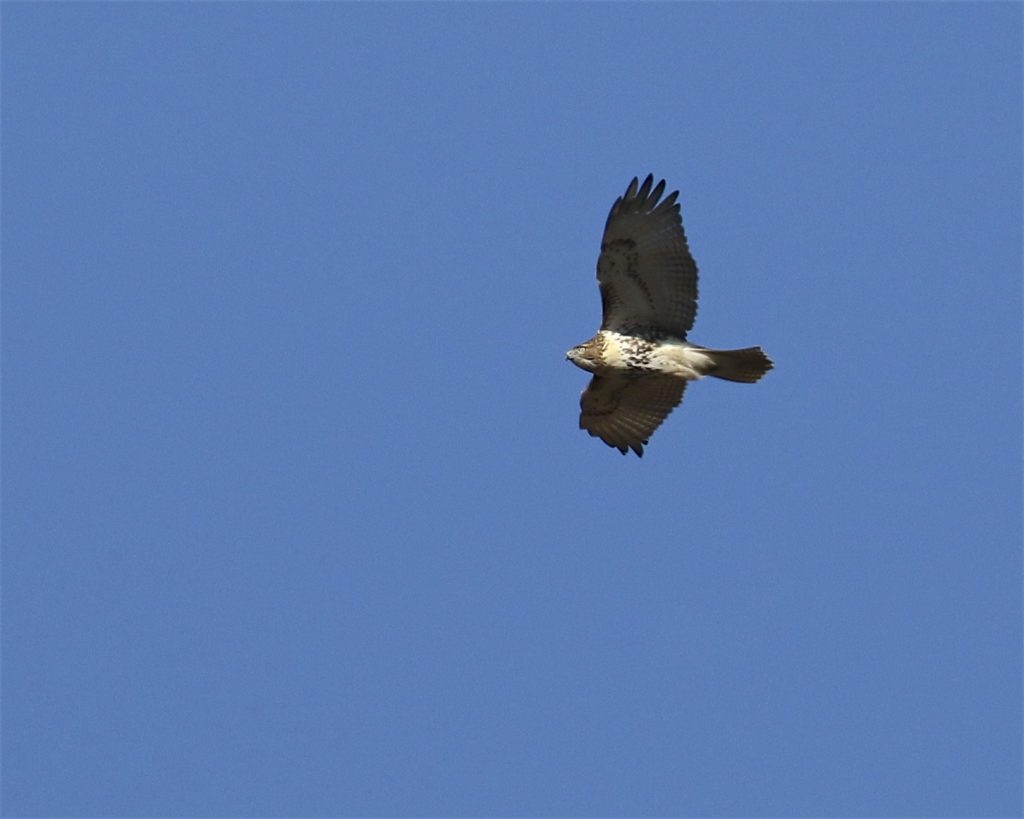 Well, sadly today was my final day as official counter at Mt. Peter Hawkwatch for the 2016 season. It was a gorgeous day to be on the mountain; sunny and cold with a moderate northwest wind. Judy Cinquina joined me for most of the day, and although the conversation was more plentiful than migrating raptors, we still had a pretty good flight, with 31  birds which included a pretty good variety. Highlights for me included good looks at two adult Bald Eagles, two adult Red-shouldered Hawks, and a brief look at a bird that always seems to be on a mission – a Merlin. Photos were tough to come by, even the vultures and passerines seemed to keep their distance today.
It was another excellent season for me at Mt. Pete; I had decent flights every Saturday except the two where I was rained out. And, I feel like I continued to learn and improve my hawk watching skills. It's sad to think it's another 10 1/2 months until I'll be at it again. I should mention that you still have a few days to go to the watch – official counters will continue to be there until Tuesday November 15th.
Here's my report for the day: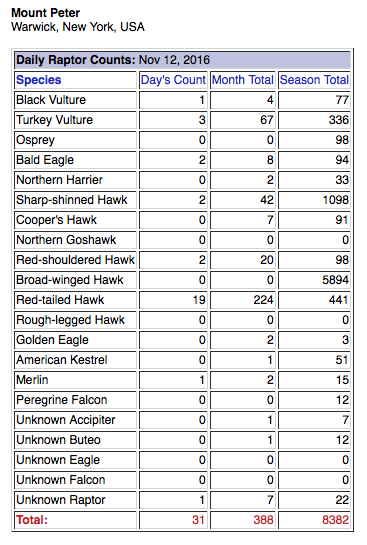 Official Counter: Matt Zeitler
Observers: B.A. McGrath, Judith C. Cinquina
Visitors: Paul Skonberg
Weather:
Sunny with very few clouds and a moderate northwest wind. Temperatures ranged from 0 to 8 degrees Celsius.
Raptor Observations:
Two adult Bald Eagles and 2 adult Red-shouldered hawks.
Non-raptor Observations:
Non-raptor Species: European Starling (22), American Robin (24), Canada Goose (15), American Crow (18), Black-capped Chickadee (7), Tufted Titmouse (4), Ring-billed Gull (8), Herring Gull (1), Common Raven (2), Blue Jay (21), Cedar Waxwing (3), Dark-eyed Junco (2), White-breasted Nuthatch (2).