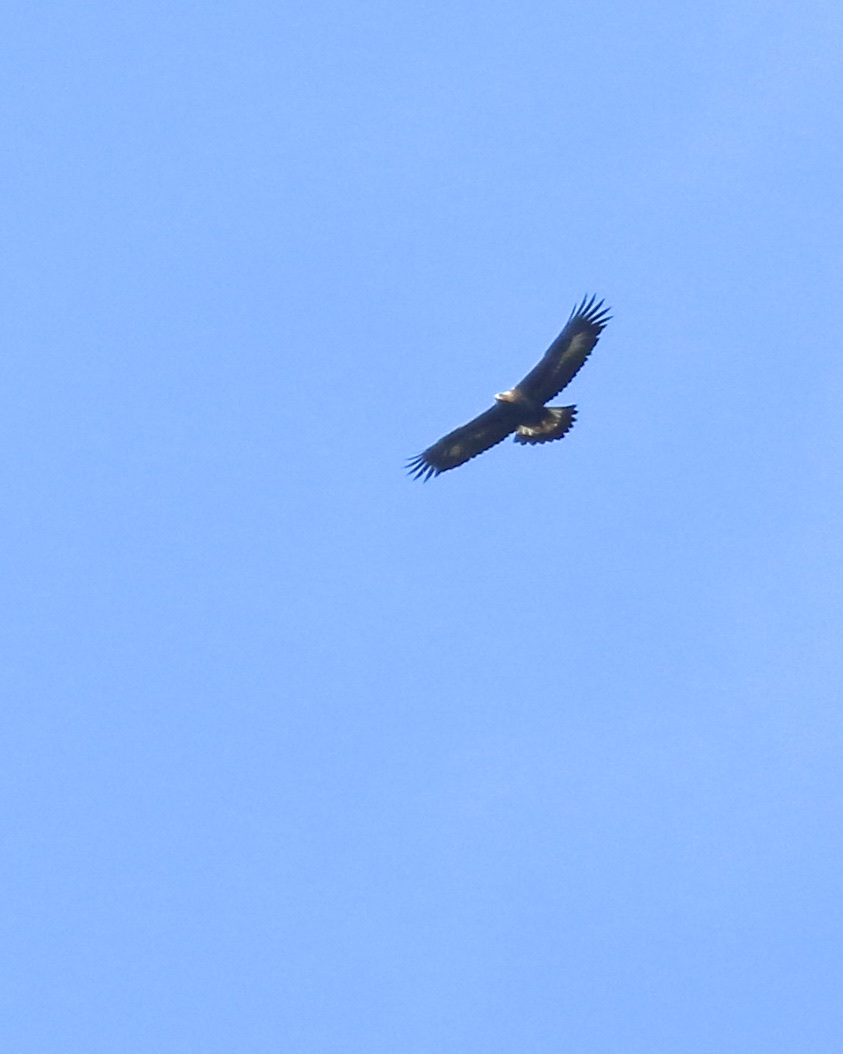 Wow, great day at Mount Peter Hawkwatch for me – I finally got a GOLDEN EAGLE! This is the first one I have seen at Mount Peter, and it was by far my best look ever at a Golden Eagle. I located a large raptor to the northwest of the viewing platform. In my binoculars I could not determine what it was, I was thinking possibly a vulture. I got the bird in my spotting scope and it became clear that it could possibly be a Golden. The bird worked its way closer to the platform, still quite high up, but in great light.  I was so excited, I didn't even know what to do with myself! I knew that I needed to photograph it to document it at least, even if the bird was a bit too high for great pics. The remainder of the watch was pretty good too, I had 71 migrating raptors including 2 immature Bald Eagles, 4 Red-shouldered Hawks, and 5 (!) Merlins. See below for my complete report from the day.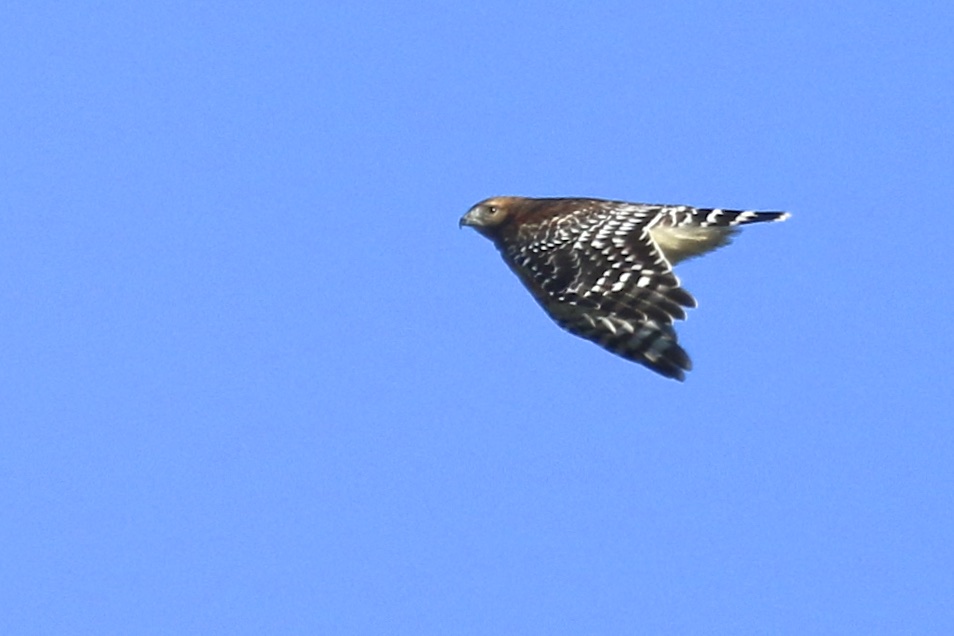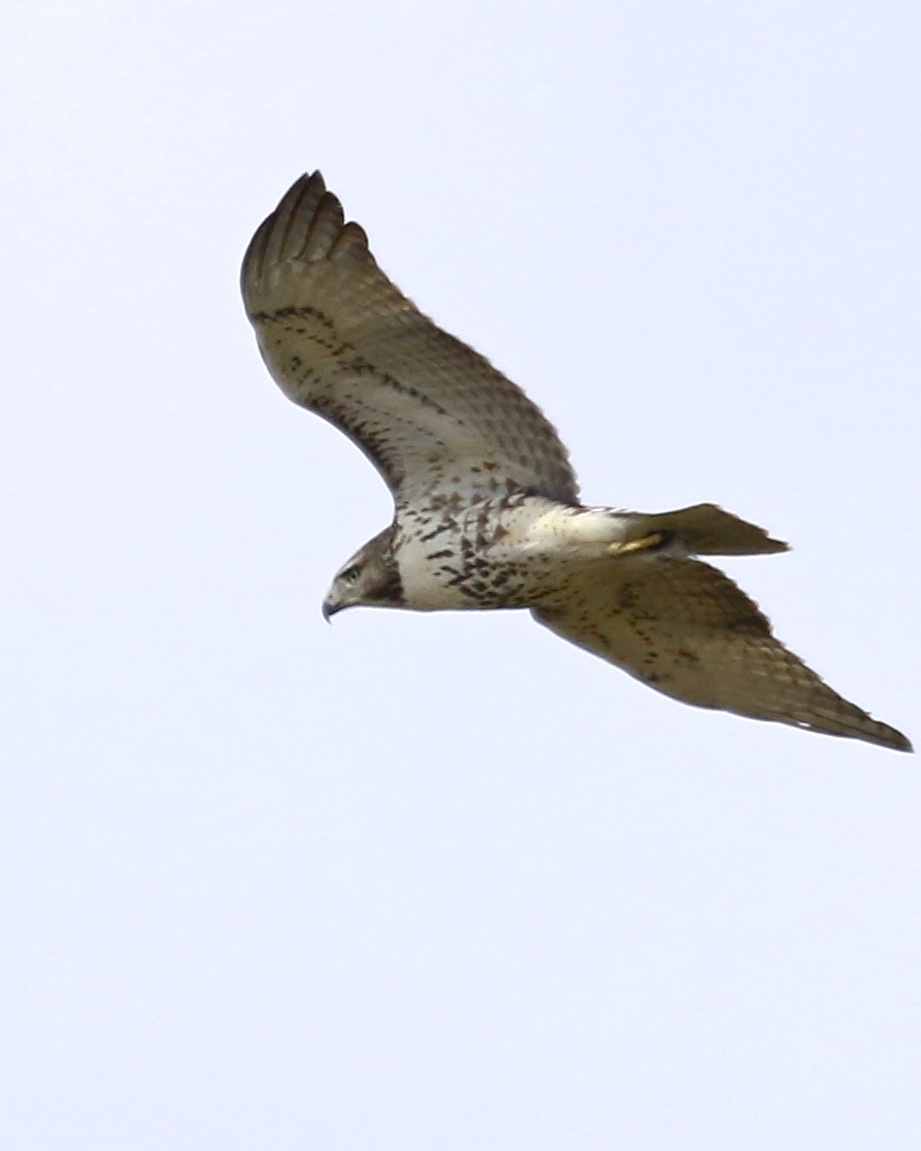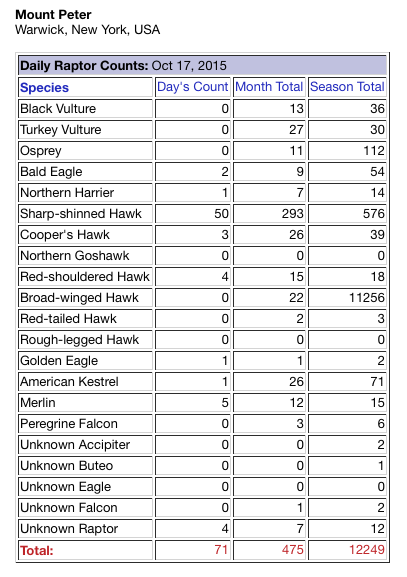 Observation start time: 08:00:00
Observation end time: 16:00:00
Total observation time: 8 hours
Official Counter Matt Zeitler
Observers: Rob Stone
Visitors:
Richie Freud, Mike X, and Fred and Donna Paley from York, Pennsylvania, and who are currently doing a tour of Hawkwatches. They spent the morning at Scott's Mountain in Harmony, New Jersey.
Weather:
Sunny with some clouds with a steady wind from the northwest. Temperatures ranged from 4 to 9 degrees Celsius.
Raptor Observations:
Migrating Raptors: (2) Immature Bald Eagles, (1) immature Northern Harrier, (1) adult Red-shouldered Hawk, (1) immature Red-shouldered Hawk, (2) unknown Red-shouldered Hawks, (1) unknown American Kestrel, and the highlight of the day, at 10:20 EST, (1) immature GOLDEN EAGLE was spotted to the north of the viewing platform, soared just to the left of the platform and then headed southwest. Non-migrating raptors included (2) adult Bald Eagles; one headed north, the other northeast.
Non-raptor Observations:
Non-raptor Species: Eastern Bluebird (2), Blue Jay (15), American Robin (6), Common Raven (6), American Goldfinch (3), Yellow-rumped Warbler (3), Cedar Waxwing (2), Black-throated Green Warbler (1), Ring-billed Gull (1), Northern Flicker (1), European Starling (75), American Crow (10), and Canada Goose (812).