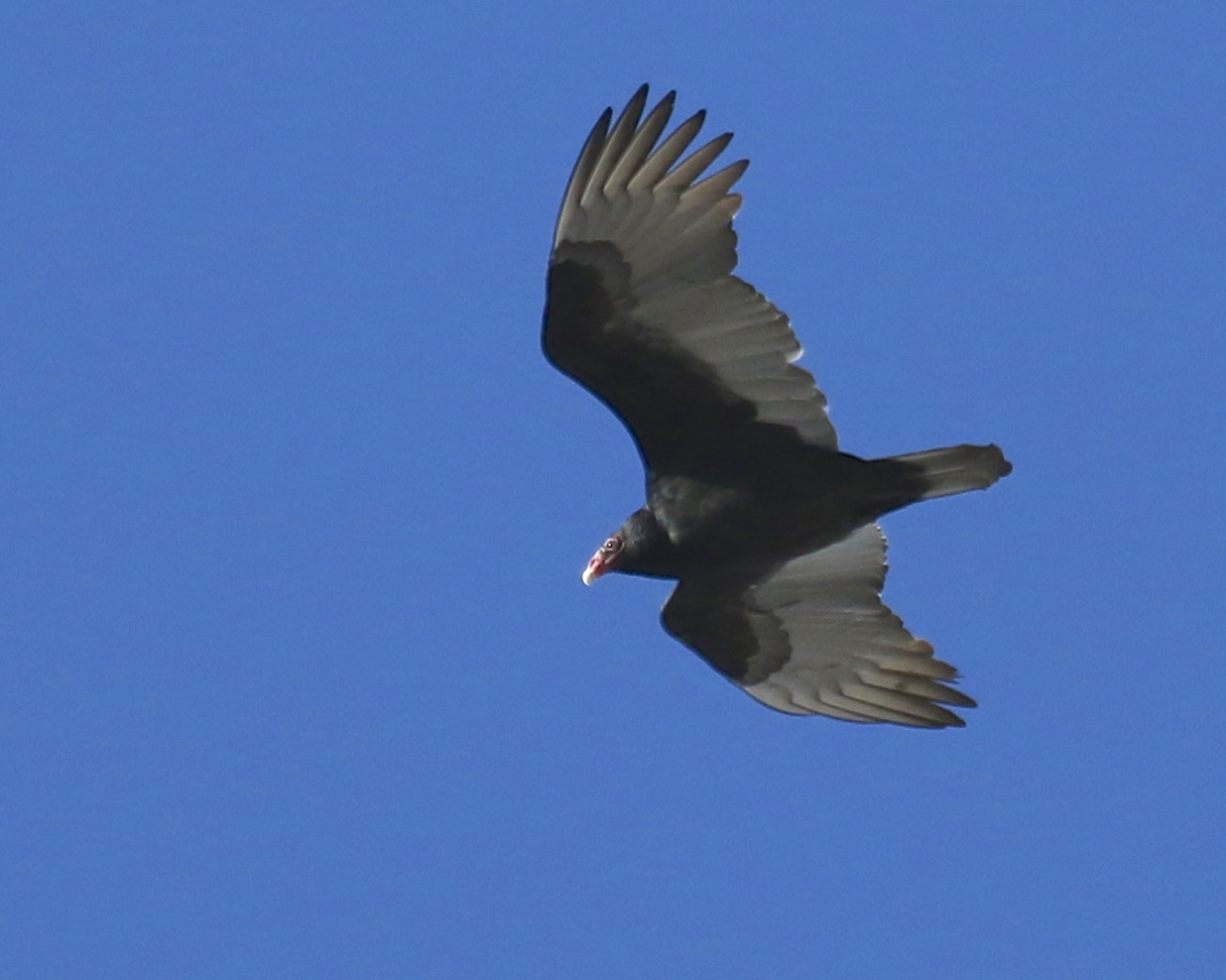 Today was my final day of the season at Mt. Peter Hawk Watch, and it ended up being a really good one. It was a sunny, cool, and crisp day with very few clouds in the sky (which makes it difficult to locate birds). I had one major goal for the day: to surpass 9,000 birds for the season at the watch. We started the day needing 60 migrating raptors to reach this goal. We were successful, thanks to the help of fellow counters Ken Witkowski, Ajit Antony, Denise Ferrel, and Judy Cinquina and once again the young eyes of Kyle Dudgeon. By the end of the day, we had counted 71 birds moving through, which put our total for the season at 9,012 migrating raptors. I was, of course, also hoping for a Golden Eagle or a Northern Goshawk, but both eluded me for this season. It was a tough day for photos, but here is a distant shot of one the adult Bald Eagles that we saw today.

And here is my report for the day:
Mount Peter
Warwick, New York, USA
Daily Raptor Counts: Nov 15, 2014
Species                 Day's Count  /  Month Total  /  Season Total
Black Vulture                   8                    90                 232
Turkey Vulture                15                  216                 570
Osprey                            0                      1                  111
Bald Eagle                      2                      9                    79
Northern Harrier              0                      9                    46
Sharp-shinned Hawk      1                     28                1119
Cooper's Hawk              1                     23                  122
Northern Goshawk         0                       1                      1
Red-shouldered Hawk    0                     58                  136
Broad-winged Hawk       0                       0                5685
Red-tailed Hawk            43                   428                 658
Rough-legged Hawk       0                        0                     0
Golden Eagle                  0                        7                    10
American Kestrel            0                        4                  139
Merlin                              0                       1                    23
Peregrine Falcon             0                       1                    12
Total:                             71                   889                 9012
———————————————————————-
Start time: 09:00:00
Observation end time: 16:00:00
Total observation time: 7 hours
Official Counter Matt Zeitler
Observers: Ajit I. Antony, Denise Farrell, Judith C. Cinquina, Ken Witkowski
Visitors:
Kyle Dudgeon, Bobby Kerr, and Liza Antony.
Weather:
Sunny and cold with very few clouds. Winds out of the NW at 10-15 km/hour. Temperatures ranged from -2 to 2 degrees Celsius.
Raptor Observations:
Two migrating Bald Eagles, one adult and one immature. An additional adult was observed heading NNE.
Non-raptor Observations:
Other Species: Common Loon (7), American Goldfinch (25), Black-capped Chickadees (4), American Robin (37), Ring-billed Gull (12), Canada Goose (22), Pine Siskin (60), American Crow (22), Eastern Bluebird (6), Common Raven (3), and Cedar Waxwing (15).