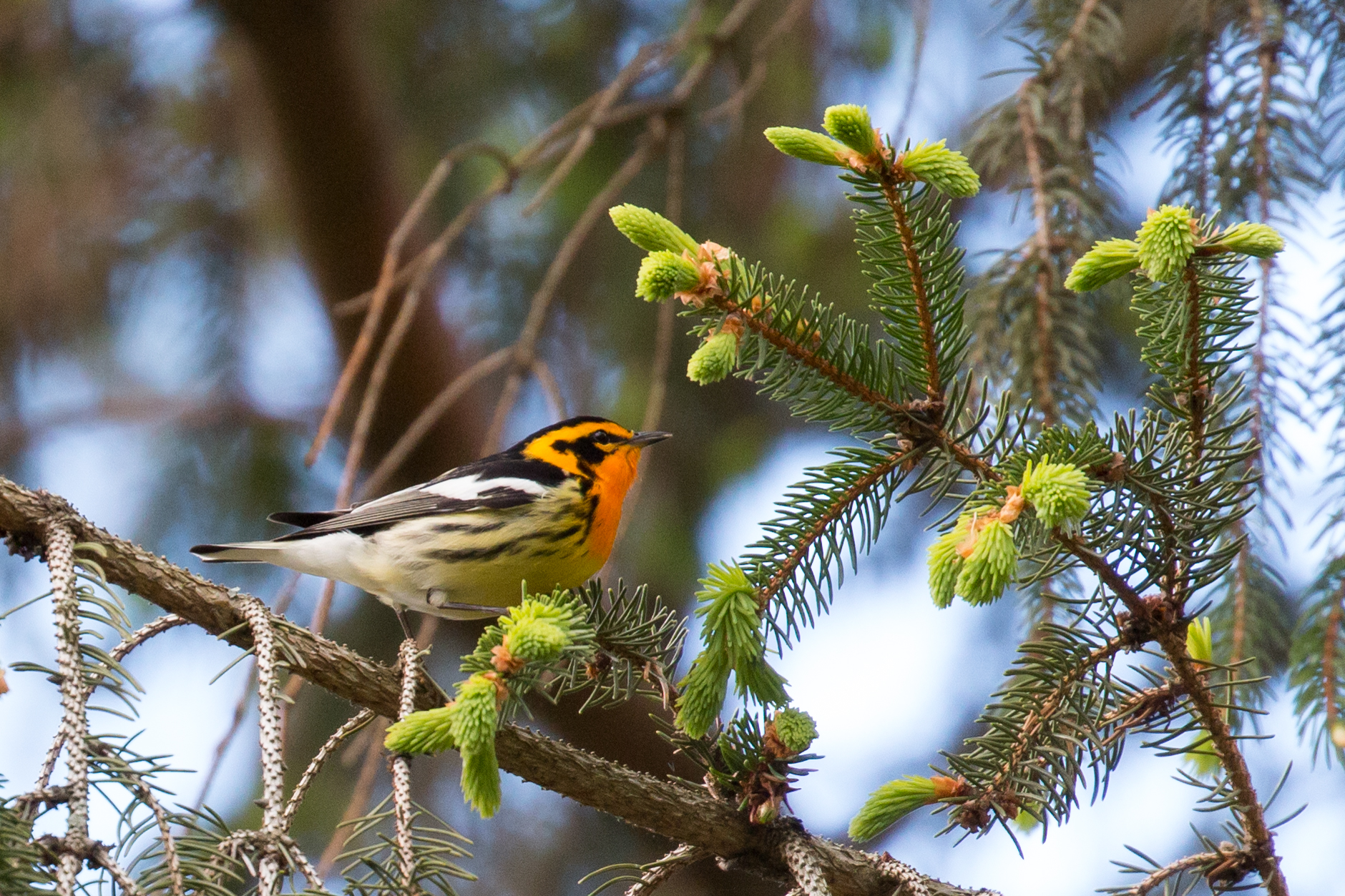 All birders seem to love warblers. Me? I've never been that big on them. And I think I'm starting to figure out why. There are a couple obvious reasons: trying to find the smallest backlit birds up in the treetops is not exactly easy. Then if you find them, you have to be able to identify them, which can also be difficult. I'm improving with both of these things, but there is third reason that I've just recently figured out. Warblers are all about timing. This time of the year, the morning after a southwest wind the night before, with the radar lit up, is just perfect. Unfortunately, I'm at work in the morning five days out of the week, and have to hope for good timing on the weekends. I get out in the evenings, of course, and you can do alright then, but it's certainly not prime warbler time. And the window for warblers is not a large one. Time flies by and before you know it, it's over. Don't blink.
So, this weekend I sabotaged myself by making an appointment to have my car serviced first thing Saturday morning. I made it a few weeks back and I guess I just wasn't thinking. After my appointment, I managed to get to Pochuck Mountain State Park by around 10 am. The trail was quite birdy, with more birds being heard than seen, but plenty of action. I had 30 species on my walk; a glimpse of a BLACKBURNIAN WARBLER, a nice look at my first of the year Blue-headed Vireo, and several Black-throated Green Warbler being heard were all highlights. I checked the Camel Farm afterwards and had a decent showing of shorebirds: Least Sandpipers, Lesser Yellowlegs, Greater Yellowlegs, Solitary Sandpiper, and Killdeer. I made one final stop for the day at 6 1/2 Station Road Sanctuary, where I saw my first Northern Rough-winged Swallows of the year.
On Sunday I got out early-ish, arriving at Laurel Grove Cemetery just after 7 am. I did well for warblers here (for me). The best part was getting really good looks and a decent photo of a BLACKBURNIAN WARBLER. Catching a glimpse of one at Pochuck the day before wasn't cutting it, so I was pretty thrilled to get such a good look at this bird. Other good birds include my FOY Magnolia Warbler, Northern Parula, Chestnut-sided Warbler, and Indigo Bunting. I had nearly 40 species at the cemetery with 9 species of warbler.
I stopped by the Camel Farm on my way home. I was already planning on going there, but I was pretty excited to get there because Rob Stone and Curt McDermott had let me know that they had located a WHITE-RUMPED SANDPIPER there earlier that morning. This was undoubtedly the bird of the day for me! I relocated the bird fairly quickly and Linda Scrima joined me to get a quick look. Now this was my kind of birding! A good collection of shorebirds was present:
Semipalmated Sandpiper (1), 

Killdeer (4), Least Sandpiper (20), WHITE-RUMPED SANDPIPER (1), Pectoral Sandpiper (2), Solitary Sandpiper (4), Greater Yellowlegs (1), and Lesser Yellowlegs (5)
Unfortunately at the Camel Farm the birds are really quite distant. I tried for photos, mostly by digiscoping, but I couldn't even manage documentary photos of the WRSA.