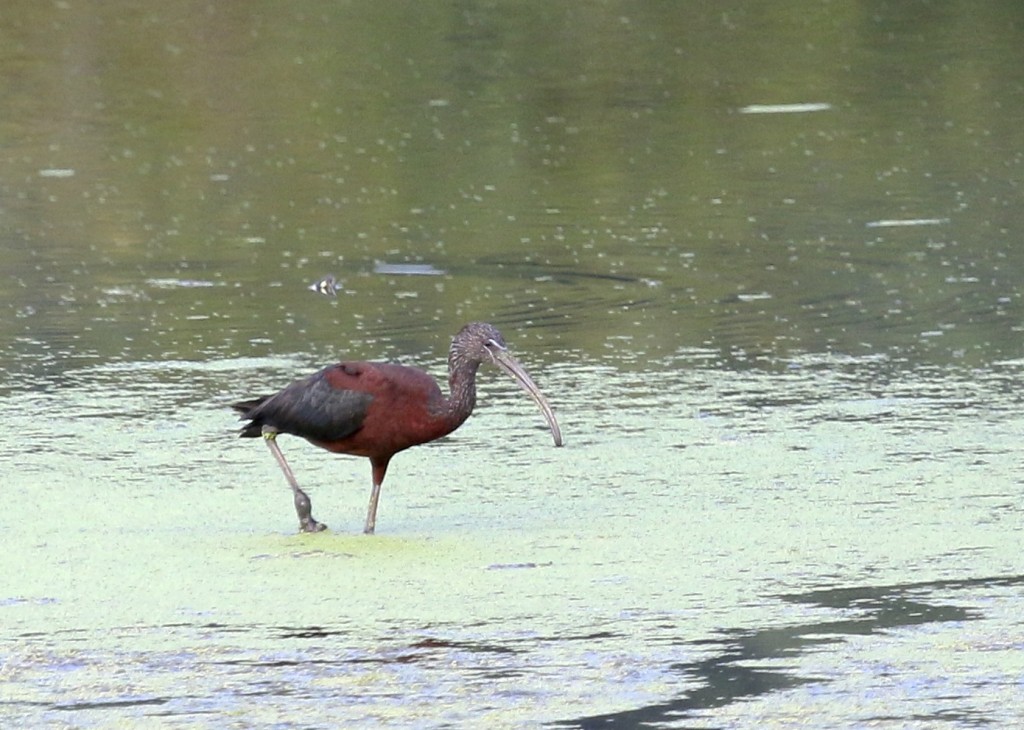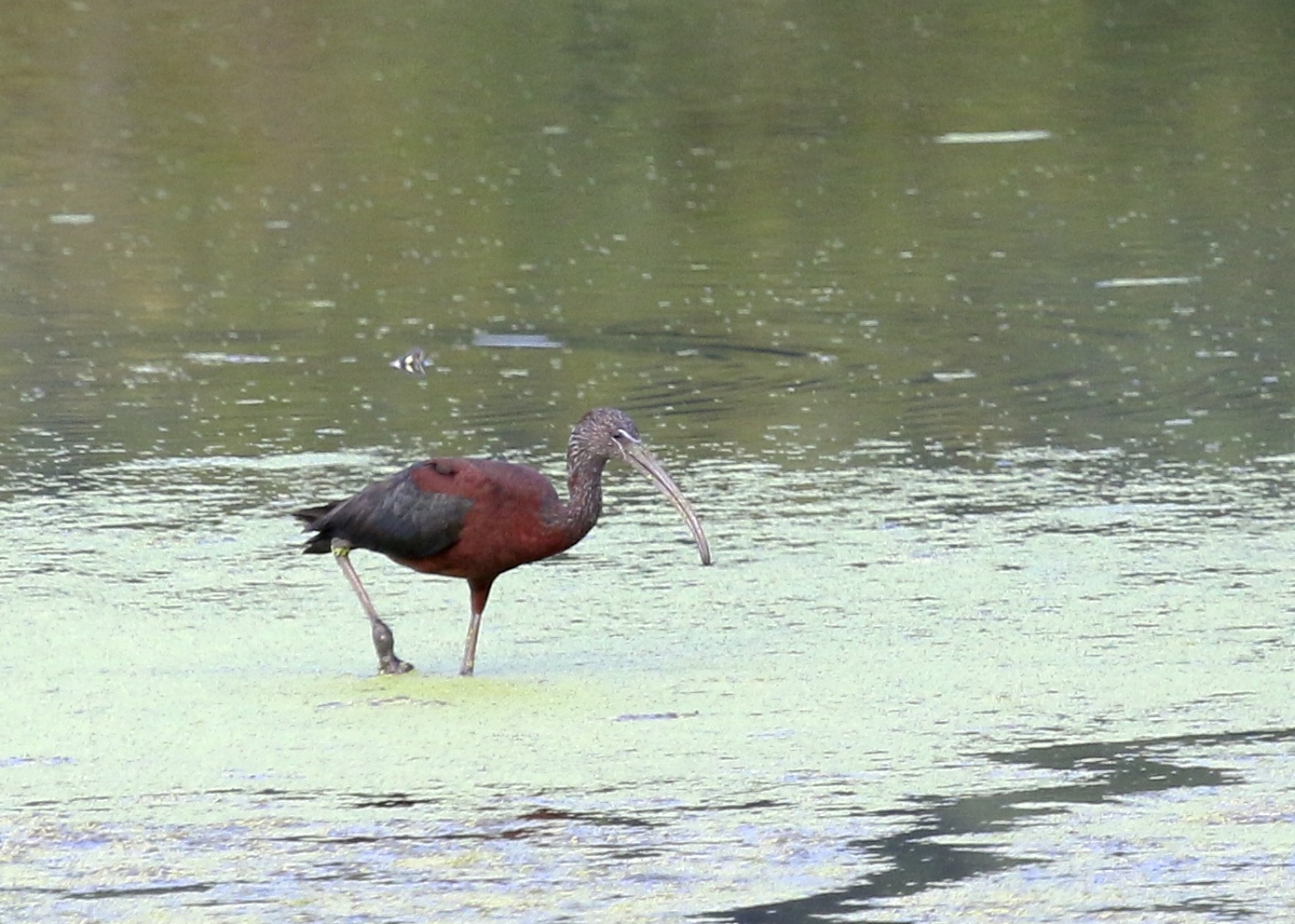 So, yesterday afternoon I located an ibis the small pond to the south of the Heritage Trail at 6 1/2 Station Road Sanctuary. Having just had a very good look at the three Glossy Ibis out at the Liberty Loop just last week, this bird seemed a little different to me. This bird had white at the base of both the upper and lower bill, legs that appeared to be light orange in color (as opposed to the darker legs on the three LL ibis), a much redder overall look that was less iridescent, and to me, the bill appeared to be slightly larger. With all this in mind I started to think about the possibility of a White-faced Ibis. I did some quick, inconclusive research on my phone app and then called Rob Stone and John Haas for some guidance. Apparently, both the legs and the facial skin of a WFIB should be red/pink in color, but the key for this ID, was to see the color of the bird's eye. If the iris was red then it would make it a White-faced, if dark it would be a Glossy. Well, this bird does not have a very large eye, and I was viewing it from just under 150 yards away, which was going to make it difficult to determine. John showed up in no time at all, but by that time, the had bird picked up and move further out by about another 40 yards. Karen Miller, Linda Scrima, Bruce Nott, and Kathleen Ashman had also showed up. We all agreed that the bird was too far to see the eye color. It was getting darker by the minute, so it was decided that John and I would work our way around the pond to get a closer look. When we did so, it was still tough to determine the eye color; I think the setting sun was playing some tricks on us. Scotty Baldinger eventually joined us, and not long after that we felt confident that the bird's iris was not red and the bird was therefore a Glossy Ibis. It was really a fun evening for me, spending time observing such an interesting and beautiful bird and to do so with some great people made it that much better.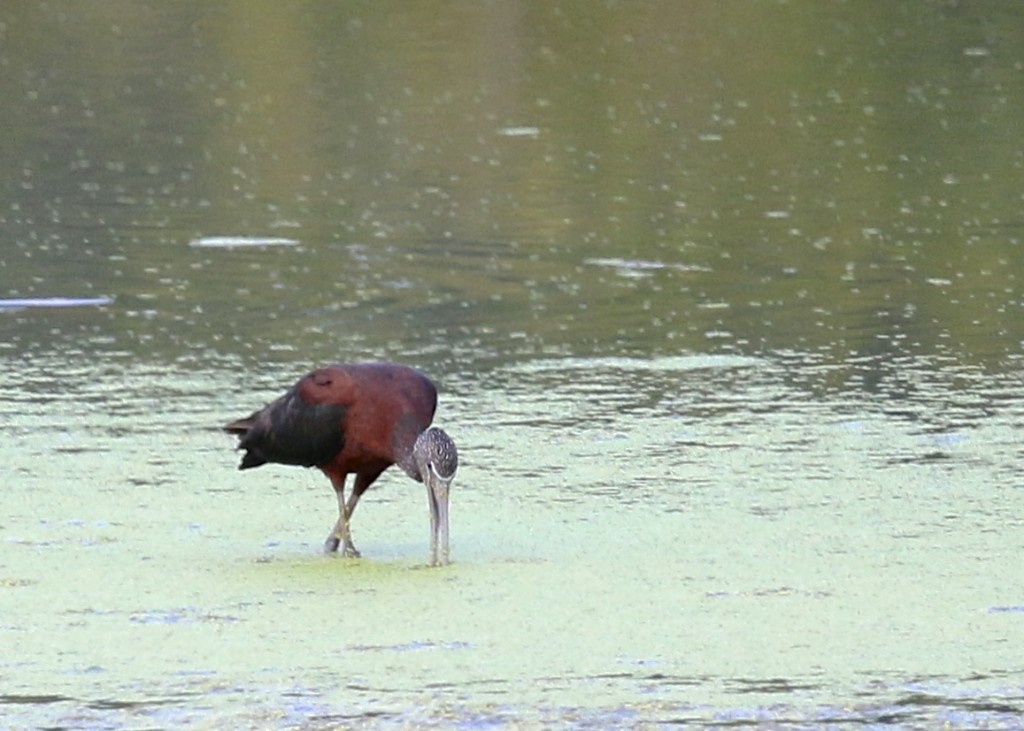 One last thing – John wrote an interesting post about this bird on his blog, and reading it, I learned about another important identifying feature: according to the Crossley Guide, the white at the base of the bill always disappears behind the eye, as opposed to the complete white surround of the White-faced Ibis.
LITTLE BLUE HERON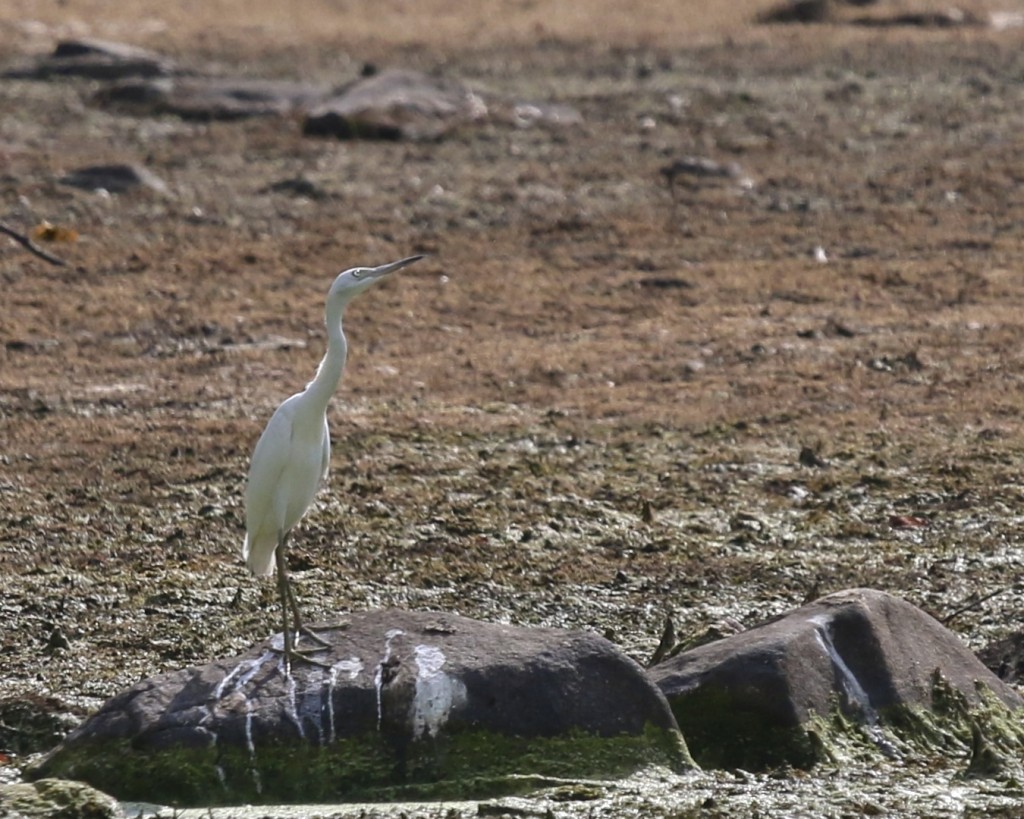 It was an eventful afternoon of birding; before I went to 6 1/2 Station Road Sanctuary, I went for the LITTLE BLUE HERON in Bullville again. This time I did not come up empty handed, the bird was easily located and though it was little far out, I got great looks in my scope and the photos were not too bad. This bird had a lot of personality to me – if I was a little closer (and it wasn't backlit), I could have had some nice photos for sure because the bird kept striking interesting poses.